Off To Ireland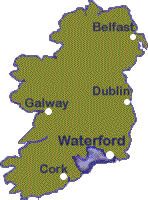 To a full moon on a dark night, and the road downhill all the way to your door.

— Anonymous

What is Irish diplomacy?

It's the ability to tell a man to go to hell,

So that he will look forward to making the trip.

— Anonymous

Wherever you go and whatever you do,

May the luck of the Irish be there with you.

— Anonymous

Now sweetly lies old Ireland

Emerald green beyond the foam,

Awakening sweet memories,

Calling the heart back home.

— Anonymous

O Ireland isn't it grand you look --

Like a bride in her rich adornin?

And with all the pent-up love of my heart

I bid you the top o' the mornin!

— John Locke