The Ring Of Kerry
Mood:
special
Now Playing: The Ring is a Thing. A Very Special Thing
You're listening to
Maura O'Connell
sing
Ireland.
Turn the sound off using the control above.
            ~~~~~
We started our next to last day in Ireland with a little walk around this very pretty tourist town. We're happy to be here in February, even with the rather somber weather, because the tour books all tell us that Killarney is the "megalopoplis" of tourist cities of the country and is descended upon during summer months by hordes of tourists, cars and buses. It's quite empty now with many hotels and restaurants closed for the season. That's OK with us.
A little side trip out of town to Ross Castle and a view of one of three of the Lakes Of Killarney. Like this is just as beautiful as it gets. Except, later in the day, it gets even more beautiful because today we're going to do the "Ring". Yes, the Ring Of Kerry - which will take us out onto one of the several peninsulas jutting out of Ireland into the Atlantic on its southwest coast. The trip will take us around the perimeter of the peninsula (say that 10 times fast). This is highly recommended by Lonnie's colleague (who wrote us a trip guide in advance, having been here many times), the so-called
Flynn
of The Times. (aka Beth Flynn).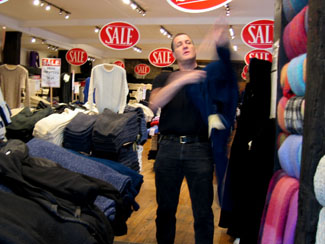 Trying on a wool sweater at the Aran Sweater Market in Killarney.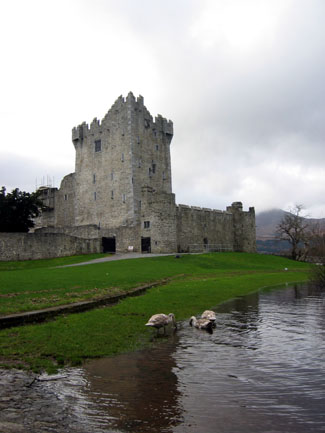 Ross Castle from 700 AD, just outside of Killarney on one of its three lakes.
Now we're off on our ride around the Ring of Kerry. It's a terribly narrow (with signs to warn you about oncoming "coaches", i.e. buses), twisting road with incredible vistas that change at every turn. Lakes, mountains, seascapes, quaint villages, one after another roll into view. It's, once again, cloudy, foggy but no rain. And we don't get started (we are so slow in getting up, showered, eating, shopping and then off) until 12 and we have 100 miles of this tortuous road to cover.
Out onto the Ring and the views of nature are magnificent.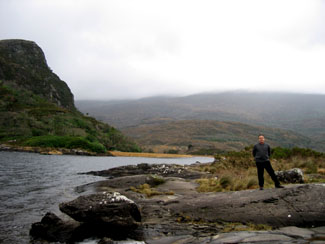 Lonnie poses along side a beautiful mountain lake.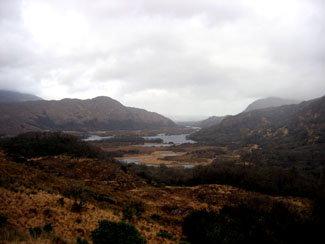 Another Ring view.
Hmm...these little guys would make an awfully nice sweater.
Sheep are everywhere on our route, including on our route.
Stopping every once in a while to appreciate (say "appreesiate") the views, we make our way slowly and arrive at one of several small towns on the Ring: this is Kenmare, one of the larger ones, where we pick up sandwiches, crisps (chips), and coffee. We're gonna have a picnic. But not before we check out a pub for some hot carrot/parsnip soup and a Guinness.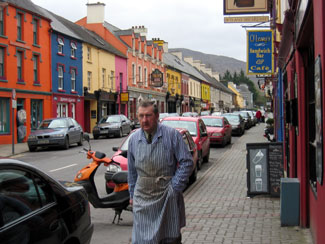 The main street of Kenmare, a cute town on the Ring of Kerry.
As I've said, it's cloudy and foggy but I didn't say: it's very mild today; seems to be in the 50's and no wind like we had in Dublin. Apparently, Ireland is at the top end of the Gulf Stream and, therefore, has relatively mild weather. It rarely freezes or snows; it's very
wet
and the two contribute to a fabulous flora, including, believe it or not, small palm trees everywhere.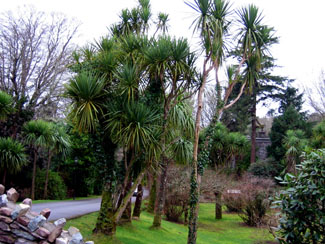 Palm trees in evidence everywhere in Ireland. "Susanne, Al! Is that a palm tree??"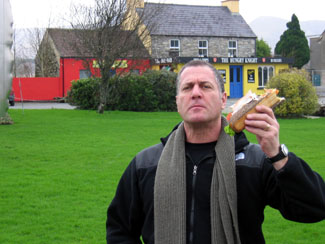 We stopped in the town square of Sneem, another small town
on the Ring and ate our sandwiches in front of the "Hungry Knight" pub.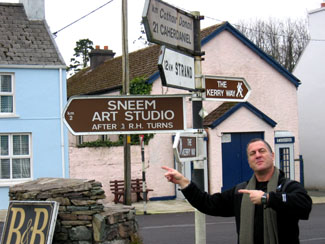 We love the signposts. This in Sneem tells you to make 3 right turns
to find a stuido. And hiking paths, including the Kerry Way,
which runs for 10s of miles throughout the area. are everywhere.
Riding on we pass ruins of castles, homes, farms and then a view of a home with 5 cows in the front yard. Lonnie wants to take some pictures so I pull over. An 84 year old woman who "worked in Asbury Park, NJ, in the `50s" comes out from the house with her dog, Pup to chat with us. She's very sharp but quite
frayed
, looking like she's had a hard life. She's all alone in this very rundown house on the ocean. Her sister was killed by a car on this road a year ago and she lived here with her parents from the time she was 16 years old.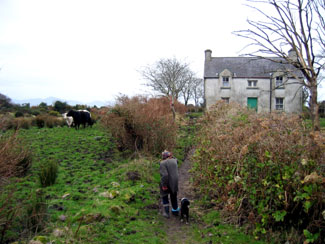 Conversations ensued with an old lady living all alone in this
rundown house. Beautiful and depressing, all in one.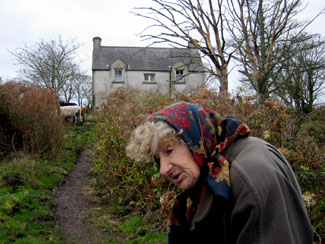 "I lived here from the age of sixteen. My sister was killed by a
car that she didn't hear as she crossed this road."
It's getting late as we make our way around the other side of the peninsula. I want to somehow memorize each and every scene. When you travel you want to breathe in the sights, sounds, smells and the very essence of the places you've been to. Maybe this BLOG is one way of doing that. But it's hard to put into words the incredible and rugged beauty of these
fingers
that jut into the ocean on Ireland's coast.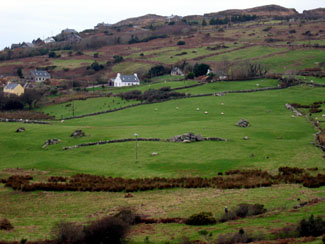 The beauty that is Ireland's Kerry.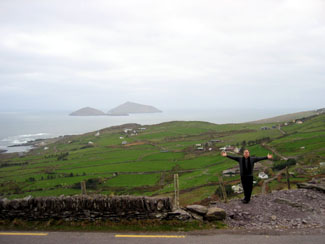 Ocean and mountain, fence of rock, field of green.
We reach the top of the Ring (just 10 miles back across to reach our hotel in Killarney). The sun (yes, the silly sun comes out at sunset but hid from us during daylight!) is setting behind the mountains and it's been a beautiful and memorable day. We're tired but our souls are full of the beauty of this wonderful place. It's my third visit; it's Lonnie's first. But we both feel we must return once again to explore some more.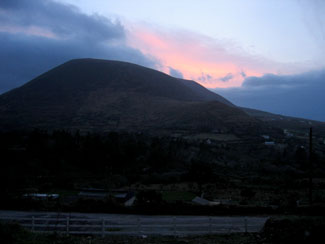 The sun set over the beautiful Ring of Kerry.
Tomorrow we leave for Shannon and our plane trip home at 3:30. We'll reach JFK at 5:30 pm and will re-engage our other lives. That's what travel is all about isn't it? It's wonderful to discover other worlds. It's nice to return home.
Hope you enjoyed this diary. I enjoyed writing it for all of you who have bothered reading it and for Lonnie and me and our memories of this great trip together.
-Matt
Posted by Matthew at 5:58 PM EST
Updated: Friday, February 13, 2004 3:20 PM EST